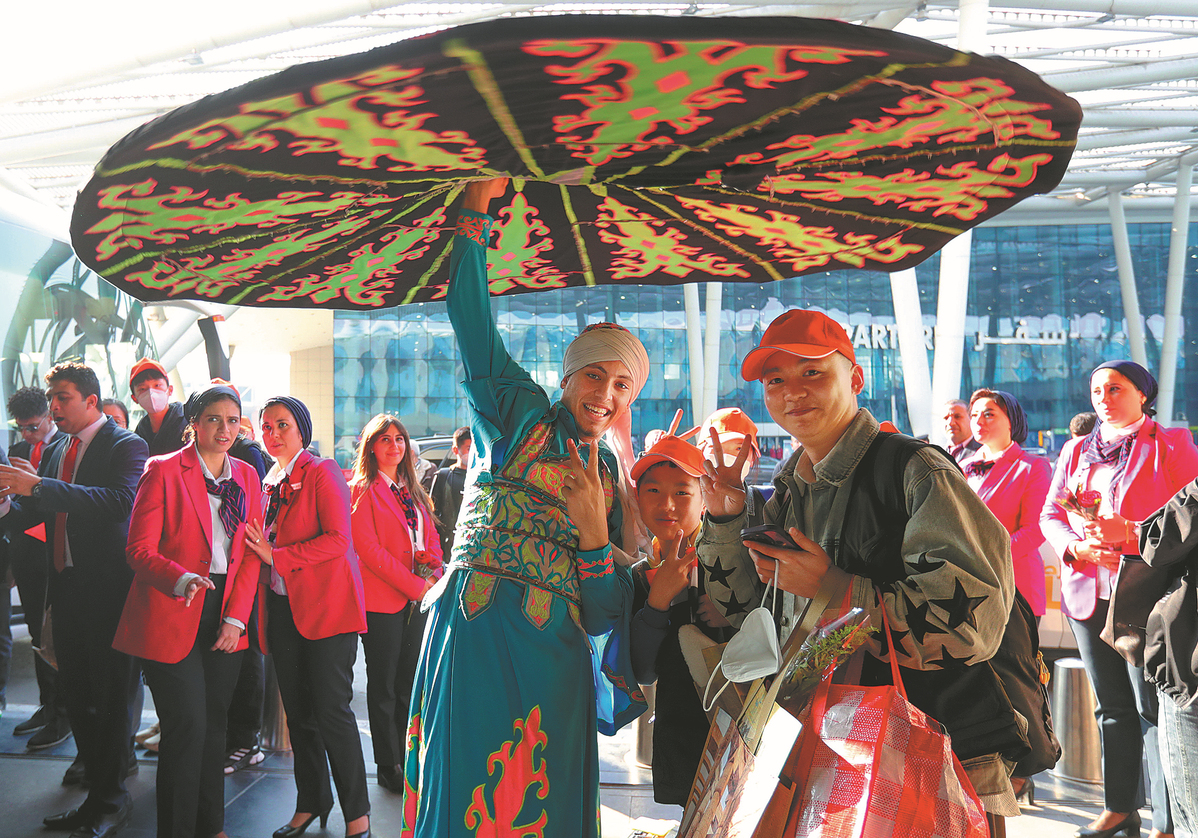 Chinese tourists boost overseas travel recovery during weeklong Spring Festival
Chinese tourists have shown a strong enthusiasm for traveling abroad during this year"s Spring Festival break, following China's quarantine-free cross-border travel since Jan 8 after nearly three years, with Southeast Asia being the big winner during the holiday.
The weeklong Spring Festival served as the first long holiday after the government optimized COVID-19 control measures. The most popular overseas destinations for Chinese tourists include Bangkok and Chiang Mai in Thailand, Singapore, Kuala Lumpur in Malaysia, Manila in the Philippines and Bali in Indonesia, according to Trip.com, China's largest online travel agency.
During Spring Festival, the volume of outbound travel orders surged 640 percent year-on-year. The number of orders for overseas hotels and international flights booked by Chinese mainland tourists both increased by more than four times the figure from the last Spring Festival, Trip.com found.
"The outbound travel market is expected to see a more apparent boom during the May Day holiday with the gradual increase of international flights and improved travel convenience. This year's travel market is set to see a remarkable recovery," said Shen Jiani, a senior researcher at Trip.com.
Meanwhile, starting Feb 6, China will resume outbound group tours to 20 selected countries, according to the Ministry of Culture and Tourism. Those countries are Thailand, Indonesia, Cambodia, the Maldives, Sri Lanka, the Philippines, Malaysia, Singapore, Laos, the United Arab Emirates, Egypt, Kenya, South Africa, Russia, Switzerland, Hungary, New Zealand, Fiji, Cuba and Argentina.
After announcing the notice in late January, the number of searches for overseas group tours surged on various online travel platforms. The search for group tours to Thailand, Vietnam, Indonesia, Singapore and Cambodia was the highest on Trip.com.
"With the notice, we have rapidly launched hundreds of overseas group tour products, including private small group tours, semi-self-service group tours and joining local group tours in various destinations," said Jiang Wen, CEO of group tours at Trip.com.
The Tourism Council of Thailand said the announcement is good news for the local tourism market of Thailand and the change is faster than expected. The trend also fits with the early marketing plans of travel agencies.
Budget carrier Thai AirAsia said between late January and March, it will gradually resume direct flights that connect Thailand with eight Chinese cities across the country. The airline is preparing its pilots and cabin crew for the return of Chinese tourists, its largest customer group previously.
Currently, Thai Lion Flying Charter is operating chartered flights between Bangkok and Nanning, Guangxi Zhuang autonomous region. In February, the carrier plans to launch flights that connect Bangkok with Nanjing, Jiangsu province and Zhengzhou, Henan province.
In addition, Tongcheng Travel, a Suzhou-based online travel agency, found that during Spring Festival, the most popular outbound routes include flights from Guangzhou, Guangdong province, to Phnom Penh, Cambodia; Guangzhou to Bangkok; Shanghai to Bangkok; and Xiamen, Fujian province, to Bangkok.
Visa inquiries have also increased, with the most inquiries for travel to Thailand, Singapore and Malaysia. During Spring Festival, the most popular outbound hotels booked by Chinese mainland travelers include hotels in Macao, Hong Kong, Bangkok and Pattaya in Thailand, and Dubai, according to Tongcheng Travel.
"The domestic outbound tourism market will enter a recovery cycle, and the recovery pace of different destinations varies. Chinese tourists will first consider destinations that are more open and friendly. Cities with warm weather in Southeast Asia and South Asia have become preferred choices for Chinese tourists during the winter season," said Cheng Chaogong, a senior researcher with the research institute of Tongcheng Travel.
Tuniu Corp, a Nanjing-based online travel agency, has also seen growing volumes in international flights and hotel room bookings. Hong Kong, Macao, Maldives, Phuket of Thailand, and Bali of Indonesia were among the most popular destinations on the platform.
Related Posts