This is our review of the Sofitel London Heathrow hotel at Terminal 5.
There are some odd gaps in the HfP review coverage, which we blame on familiarity breeding contempt. We've not reviewed The Concorde Room in Terminal 5 since 2014, unbelievably, and we've never done proper reviews of some of the BA lounges in Terminal 5A (5B has better coverage, because it is always a novelty to go there – if you call 2017 'better', that is).
This is a roundabout way of explaining why we've never covered the Sofitel Heathrow hotel at Terminal 5, despite it being directly attached to the British Airways terminal. We've covered MANY other Heathrow hotels – all of our London airport hotel reviews are here – but never this one.
The nearest we got was in 2016 when, for a short period, the club lounge was opened up to Priority Pass cardholders!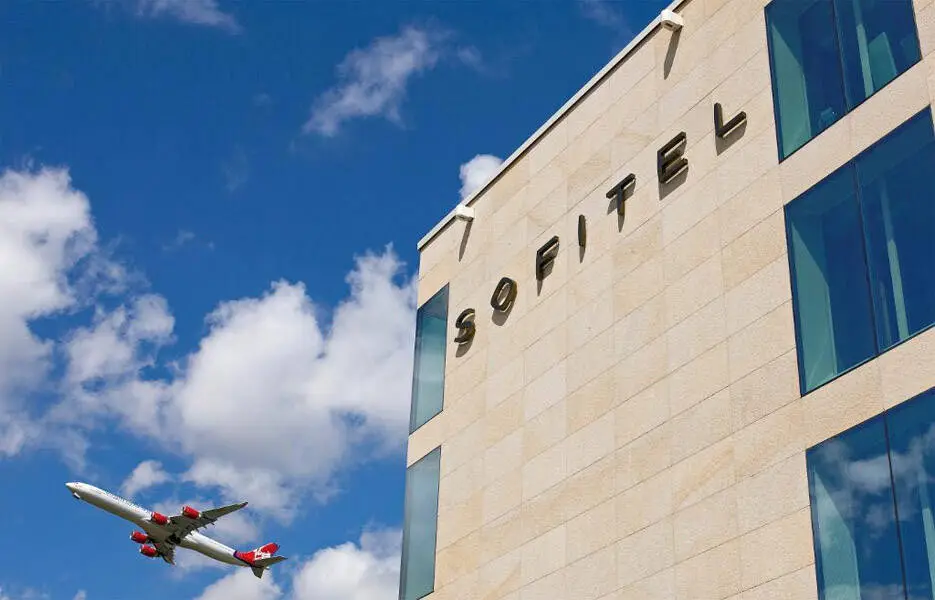 I had some Accor Suite Night Upgrade vouchers expiring, however, and a double points offer. I thought this made it worth the splurge before a flight last week.
We paid cash for our stay. The hotel didn't know we were coming and we did not get a formal tour. What I found is probably what you will find.
In summary, it is a surprisingly accomplished hotel and in many ways justifies its five star luxury positioning. The biggest issue is that the rooms are looking dated, although they are still in good condition.
The hotel website is here.
Getting to Sofitel London Heathrow
If you have ever been dropped off at Terminal 5 by car you will have passed the Sofitel as you head up the ramp to the terminal doors. If you are taken to the hotel by car you can be dropped directly outside the entrance, but most people will arrive by public transport or from an arriving flight.
Once landside in Terminal 5, you need to head to one of the many lift banks into the short stay car park.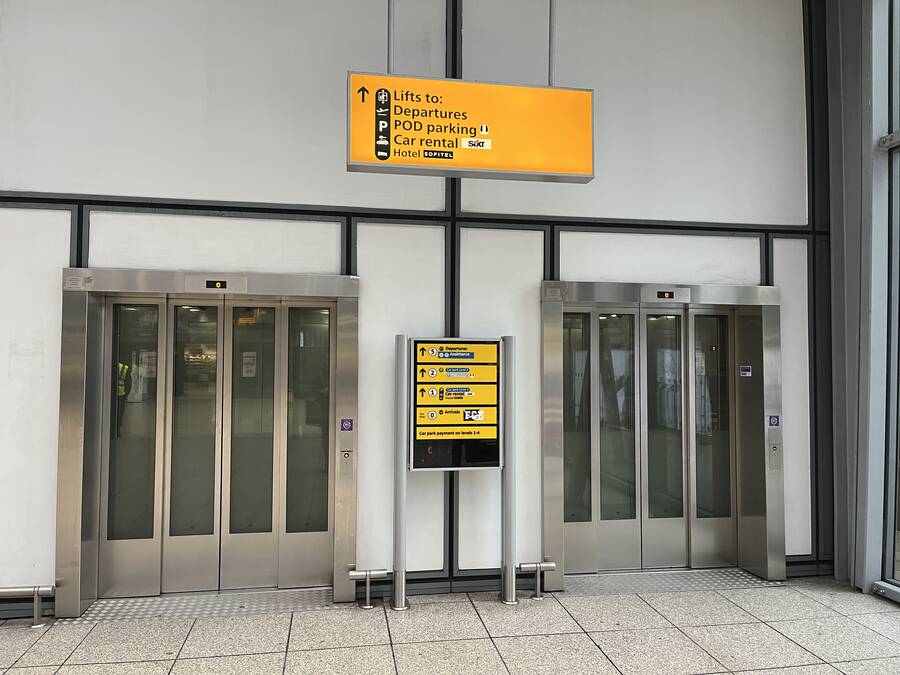 Handy tip – using the lifts opposite Marks & Spencer will save you a chilly walk through the car park.
The M&S lift bank brings you out facing this sign and a doorway: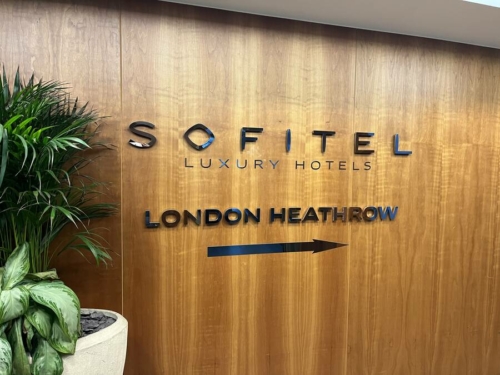 You may think you've arrived. You're wrong. You head down this corridor:
…. then this corridor: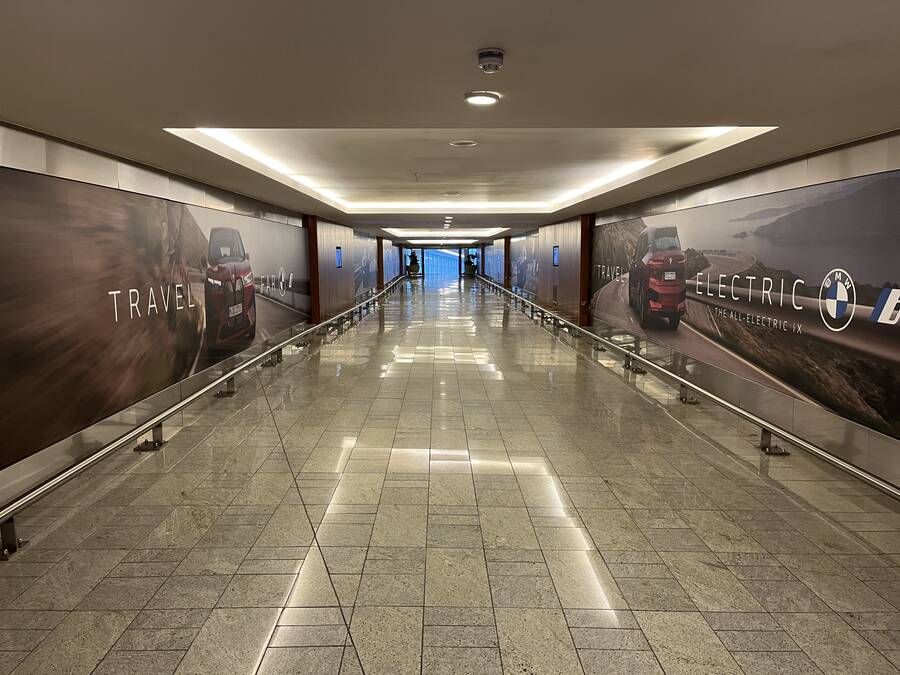 …. then over a bridge: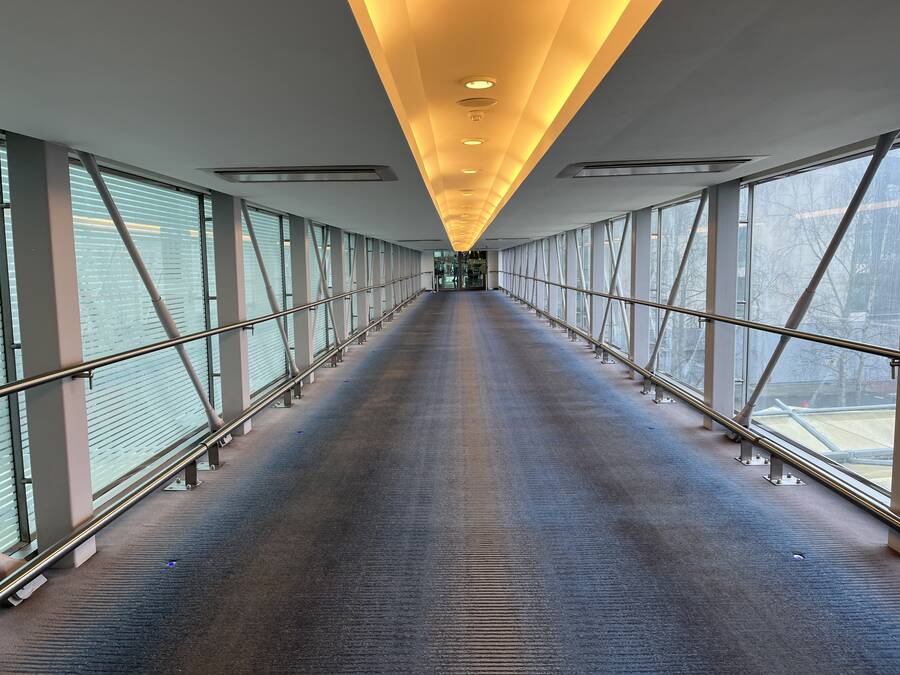 …. then through the upper level of the hotel to the escalators you can just about see: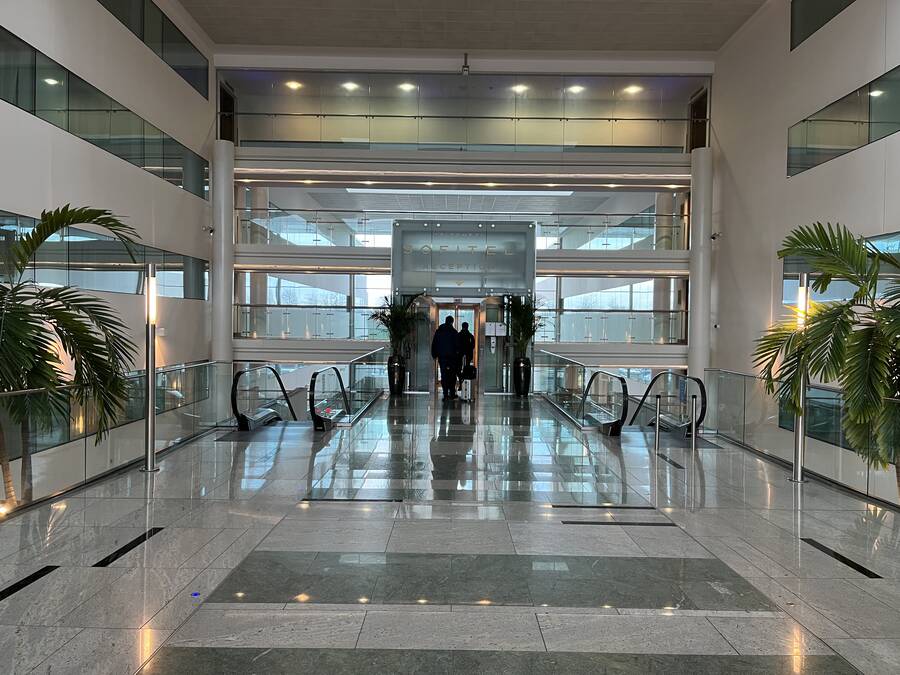 This drops you onto the ground floor of the hotel. You've made it.
Check-in at Sofitel London Heathrow
I had done online check-in the night before. If you are used to online check-in from chains that invest in IT, like Hilton or Marriott, you're going to be disappointed here:
you can't select a room online, or even see your room number
there is no 'mobile key' facility
The ONLY thing that happens with online check-in is that a pre-authorisation is taken from your credit card for the stay. This allows your key to be made up and left in an envelope at the front desk.
Here's the problem.
I arrived at the desk, was asked if I had done online check-in, and said yes. A box was opened and an envelope pulled out with my name on. That was it.
The clerk had no idea I was in a top suite and no idea I had lounge access, so no additional help or advice was provided. I was given the envelope and pointed towards the lifts. End of discussion.
What was inside the envelope? Just my key. No welcome letter, nothing explaining where the lounge was or what time it opened, no information on the bars and restaurants …. nothing.
I'd say it was the sort of welcome you'd expect at a Holiday Inn Express, except that even there I'd expect a bit more communication. So, basically, a bad start.
The hotel has 605 rooms spread across six wings with a central spine, in a HHH formation. Despite the hotel being literally a few metres from the bottom of the runway, only a handful of room at the front of the first wings (rooms starting with a 6) would get any aircraft views. Aircraft views from the first few wings (1, 2, 3 and possibly 4, 5) are presumably obscured by the terminal.
If you want to look at aircraft from your room, stay at a hotel on Bath Road – you'll pay at least 50% less too.
My suite at Sofitel London Heathrow
I'd used a Suite Night Upgrade certificate to guarantee a Premium Suite. You receive two of these when you earn Platinum status in Accor Live Limitless, with additional vouchers issued based on how much you spend throughout the year.
Whilst I had a suite, it was basically two rooms merged together. The bedroom area of the suite is virtually identical to a standard bedroom, judging from rooms I peaked into which were being cleaned. The only thing you won't get is the sitting area.
Bedroom
Let's start with the bedroom:
As you can see, the rooms are a good size with a very large, but slightly slopey, bed. Note that the bed has a throw on it, a feature which the Crowne Plaza at Terminal 4 (which has the same owners, Arora) has abandoned.
There is a lot of wood used which dates the room. The wood continues with the desk and unit:
The hotel opened in 2008 and has not been refurbished since, I believe. In truth, the style was probably out of date in 2008, and I can imagine that the design was signed off a long time before when work on the terminal began.
The biggest issue is that there are no sockets, of any kind, by the beds. This is shocking in 2023. No USB, no 3-pin plugs, nothing. If you want to charge your phone overnight you'll be doing it at the desk.
Everything else was perfectly acceptable and in decent condition given 15 years of wear. Soundproofing is perfect – my room overlooked the approach road into Terminal 5 and I couldn't hear a thing.
Bathroom
The bathroom is nothing to get excited about but, at the same time, delivered. There was a separate tub and shower – albeit not a huge shower.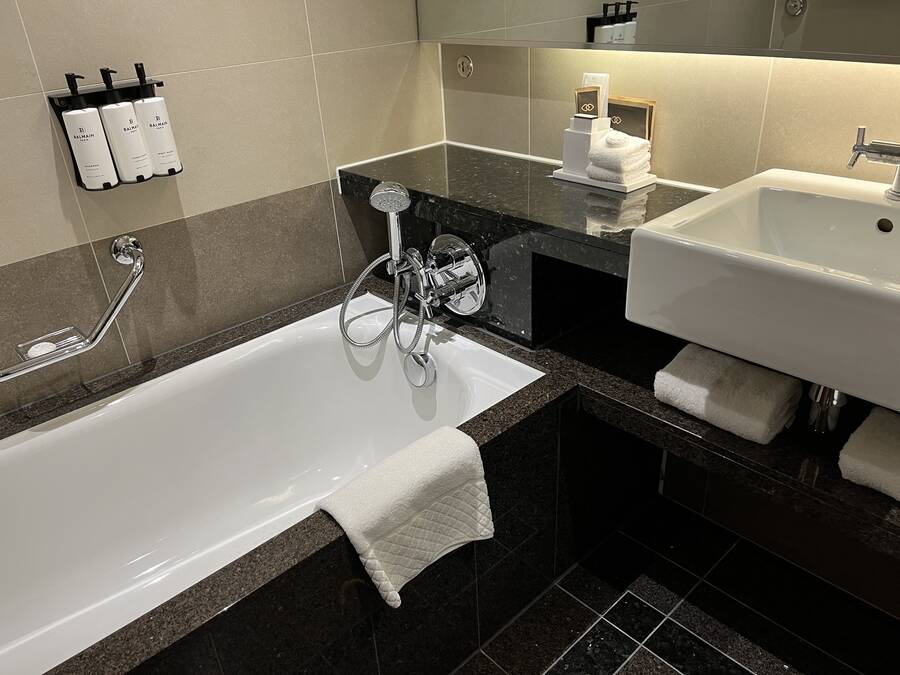 A double sink would have been better, but this was offset by the best selection of freebies that I've seen in a hotel bathroom for a while.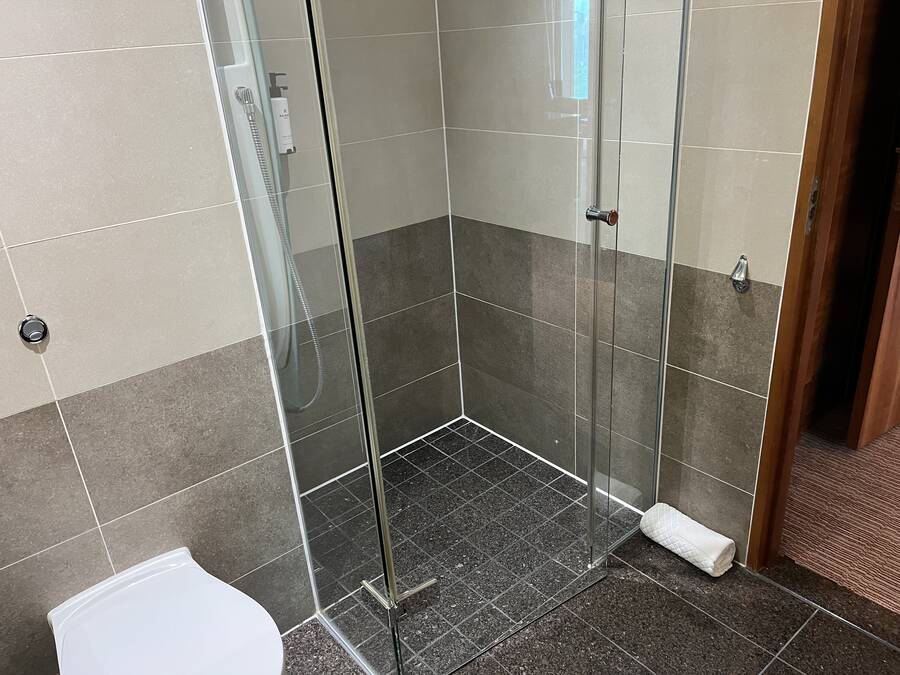 Many of the controls in the bathroom were exceptionally stiff. I was struggling to turn on the hot tap on the sink and move the temperature control in the shower, which is ludicrous.
Living room
The suite came with a good sized living room. It was, as you can see, very brown: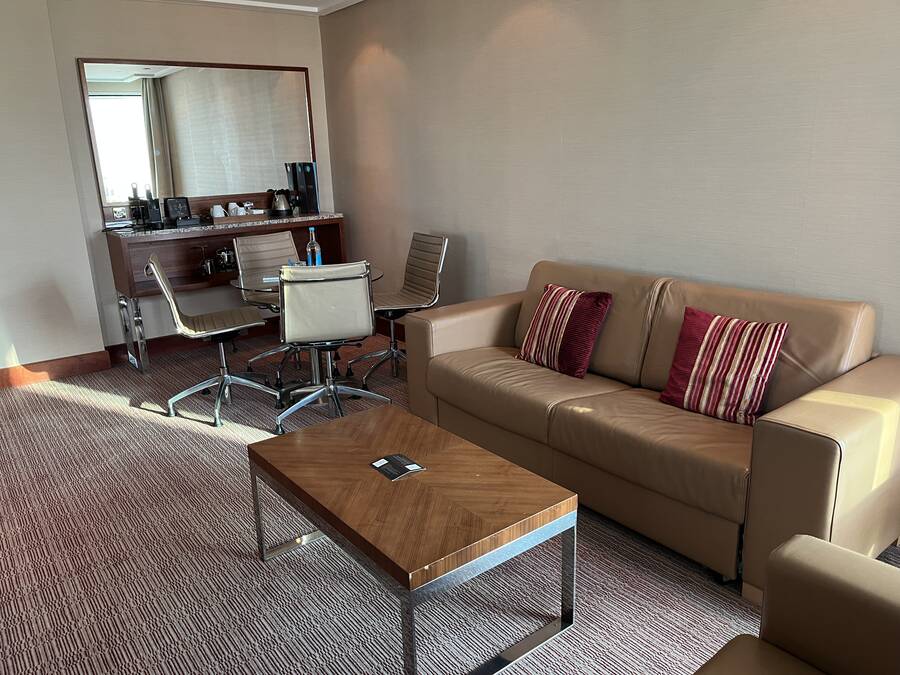 The 2nd desk was useful, and would allow a couple to work and sleep without disturbing each other. There was a coffee machine (a bit light on capsules for my liking) as well as a kettle. The mini-bar was free and contained beer and spirit miniatures as well as soft drinks – I'm not sure if this also applies to standard rooms.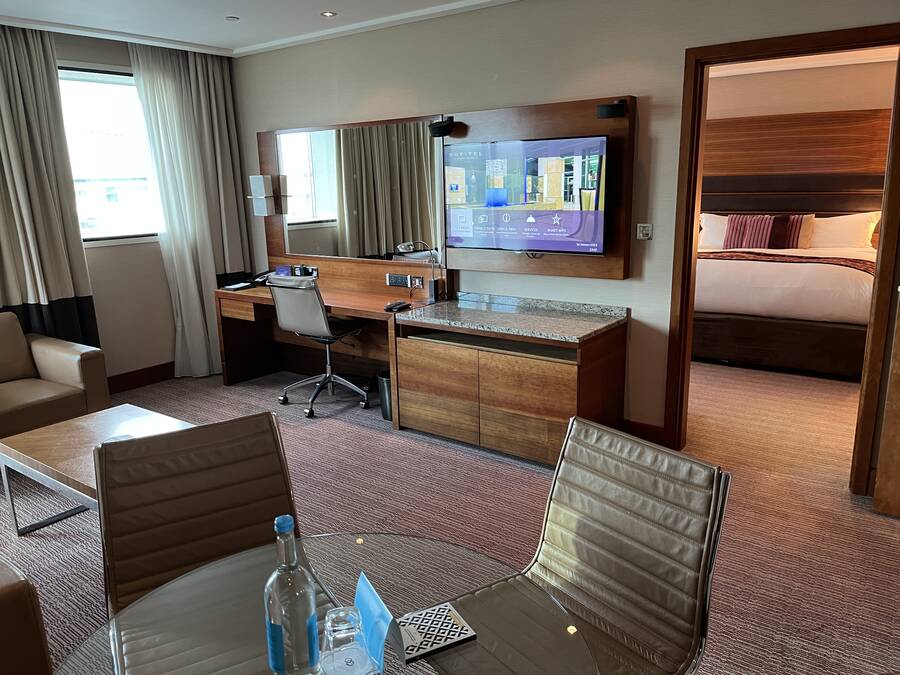 In Part 2 of this review – click here – I will take a look at the club lounge and run through the various restaurants and bars.
If you are reading this via email you were not sent Part 2. Please click here to read it on the HfP website.
The Sofitel London Heathrow website is here.
---
Accor Live Limitless update – March 2023:
Earn bonus Accor points: Accor is not currently running a global promotion
New to Accor Live Limitless?  Read our review of Accor Live Limitless here and our article on points expiry rules here. Our analysis of what Accor Live Limitless points are worth is here.
Want to earn more hotel points?  Click here to see our complete list of promotions from Accor and the other major hotel chains or use the 'Hotel Offers' link in the menu bar at the top of the page.
Related Posts