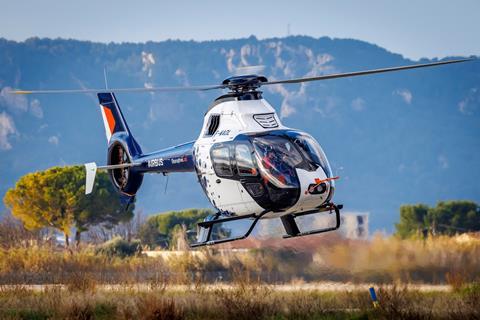 Airbus Helicopters is progressing with weekly flight tests of its DisruptiveLab demonstrator, as the airframer works to prove out technologies that it believes can deliver a 50% fuel-burn saving.
Unveiled at the Airbus Annual Summit in December 2022, the light-single-engined helicopter made its first flight in January this year.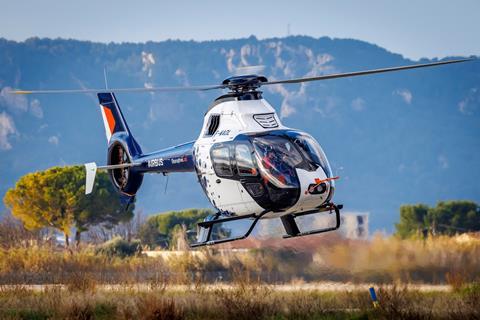 Since then, the DisruptiveLab has made another four sorties, Tomasz Krysinski, head of research and technology, told journalists on 14 February during a briefing at the airframer's Marignane site near Marseille. The most recent – conducted the same day – lasted 1h 5min.
DisruptiveLab combines a suite of technology developments which could be applied to future programmes to enhance performance.
Aerodynamic and weight improvements contribute to around 15% of the total, says Krysinski. Around 40 separate windtunnel campaigns were used to refine its shape, he notes.
He points to the "compact" main rotor hub, which is much more closely integrated with the fuselage thanks to a specially designed inter-blade damper. On its own, this innovation cuts drag by 40% over previous-generation helicopters, Krysinski says.
The 11.6m (38ft)-diameter main rotor blades are also of a new design, generating "much lower noise" than previously thanks to a thin tip profile "to reduce the interaction between the air and the blade", and slower rotational tip speed. Besides noise, vibration levels have also been reduced, he adds.
While Airbus's recent rotor blade innovations have led to designs like the hockey stick-shaped Blue Edge blades used on the H160 medium-twin, "for this one we applied different principles", he says.
A redesigned tail boom and Fenestron ducted tail rotor have further contributed to the performance gains, Krysinski adds.
The overall diameter of the Fenestron has also been reduced. While that sees blade lengths reduced, a smaller, simplified hub means "the area of the blade that works is
…
Read the rest