Welcome back, leisurely body of water appreciators, to NBA Summer Vacation Watch! Since our inaugural dispatch, the getaways have been going strong and summer has officially kicked into high gear. Signs of this include Buddy Hield returning to the Bahamas (sort of the NBA SVW version of "nature is healing") and Euro trips to the big three of Italy, France, and Greece continuing to trend. Signs also include a certain Fourth of July "white party" in the Hamptons, but every outlet from Vogue to Fox News covers that, and we prefer to go off the beaten track of respite reporting here. Plus, you know nobody got into what looked like a beautiful pool, lest they wreck their pre-wrinkled linens. Can Tom Brady swim?
I digress. Give us the sweltering summer goods! You're all hollering at the screen. And I intend to.
Jimmy Butler
Butler was in Rio de Janeiro and took some time out of hanging with footy friends to play game where you play ping pong with a soccer ball, or soccer with a ping pong table, and then skipped rocks down by the river.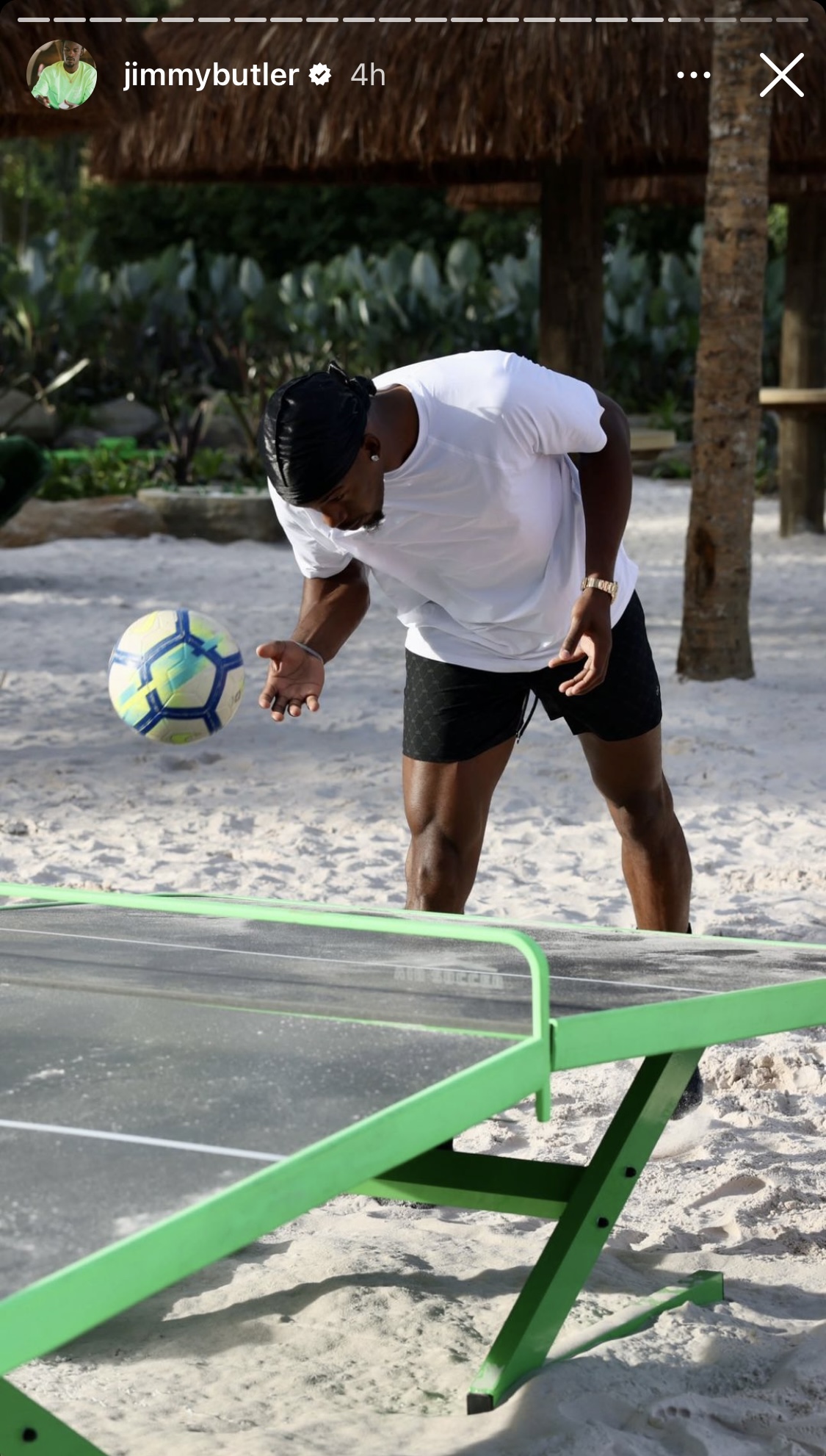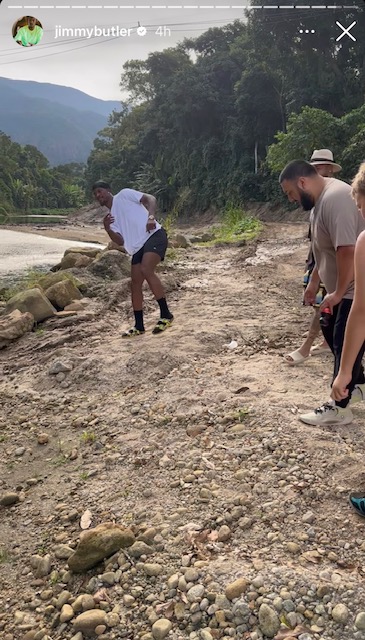 Rating: Trust Jimmy to squeeze all the usable, improvable hours out of summer vacation.
Luka Doncic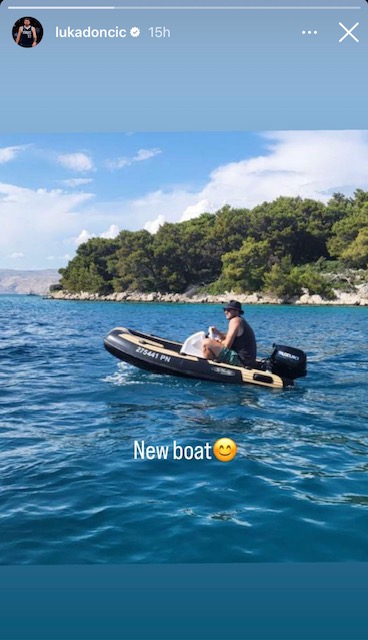 Doncic is – I'm going to venture a guess based on the Google mapping I've done of the northern part of the Adriatic Sea that abuts Slovenia – home for the summer, and sorry to bury the recreational watercraft lede, he's ripping around in his new zippy watercraft! Could it be bigger? Sure. But why? This thing is going to get you where you need to go, corners like a dream, and best of all you can claim there's no room/safety hazard when all of your freeloading friends want to come hang out on it for the day.
Rating: Just Luka and the open seas!
Pascal Siakam
After what we in the biz would call a particularly dank season for the Toronto Raptors, it's nice to see Siakam jetted off to the tropics to have a chill and beautiful vacation. He's got a beach umbrella, an infinity pool right beside that umbrella on the beach, matching vacation leisurewear, a bag of ice to put on his head in the hot sun, and a stack of pancakes.
Rating: If this column were ever about trades, which it will never be, I'd say the aforementioned list are pretty decent terms.
Shai Gilgeous-Alexander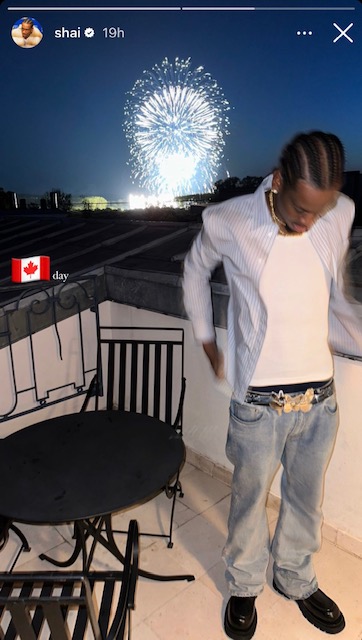 Shai went home to Toronto to celebrate Canada Day, the superior early July holiday that falls three days prior to the American Fourth of July. That's a giant chrysanthemum burst firework going off in the background, reflected in the deep, cool waters of Lake Ontario.
Rating: People always say Montreal is the most "European" of Canadian cities, but that patio bistro set? SGA's lugtread patent loafers? The deeply aloof yet casually celebratory feeling emanating from this photo? Eat your heart out, all of France!
Russell Westbrook
The Brodie takes Paris! Specifically, for a special show of his own Honor The Gift line. Lots of league favs were in attendance to support the man of the hour, but Russ also had time to put a beautiful cornucopia of fit pics together for us here.
Singling out this one because if you're an NBA guy in Paris and you don't do the "I'm picking up the Louvre Pyramid with my fingers" perspective pic, were you even an NBA guy in Paris?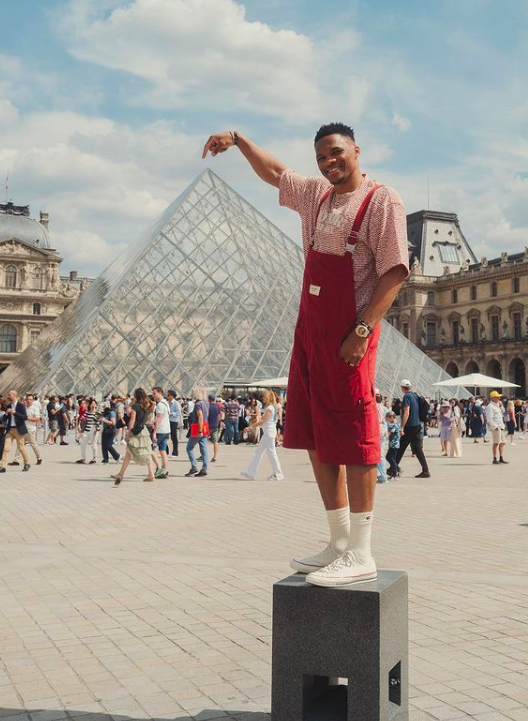 Rating: The Louvre has since replaced the Mona Lisa with this photo.
Buddy Hield
As mentioned in the intro, Buddy Hield has returned to the Bahamas! He's going to have plenty of working out on the beach to do (the only person that will ever be featured doing so here), but first he took a quick spin out to check in and catch up with the only other famous locals that can hold a candle to him, the swimming pigs.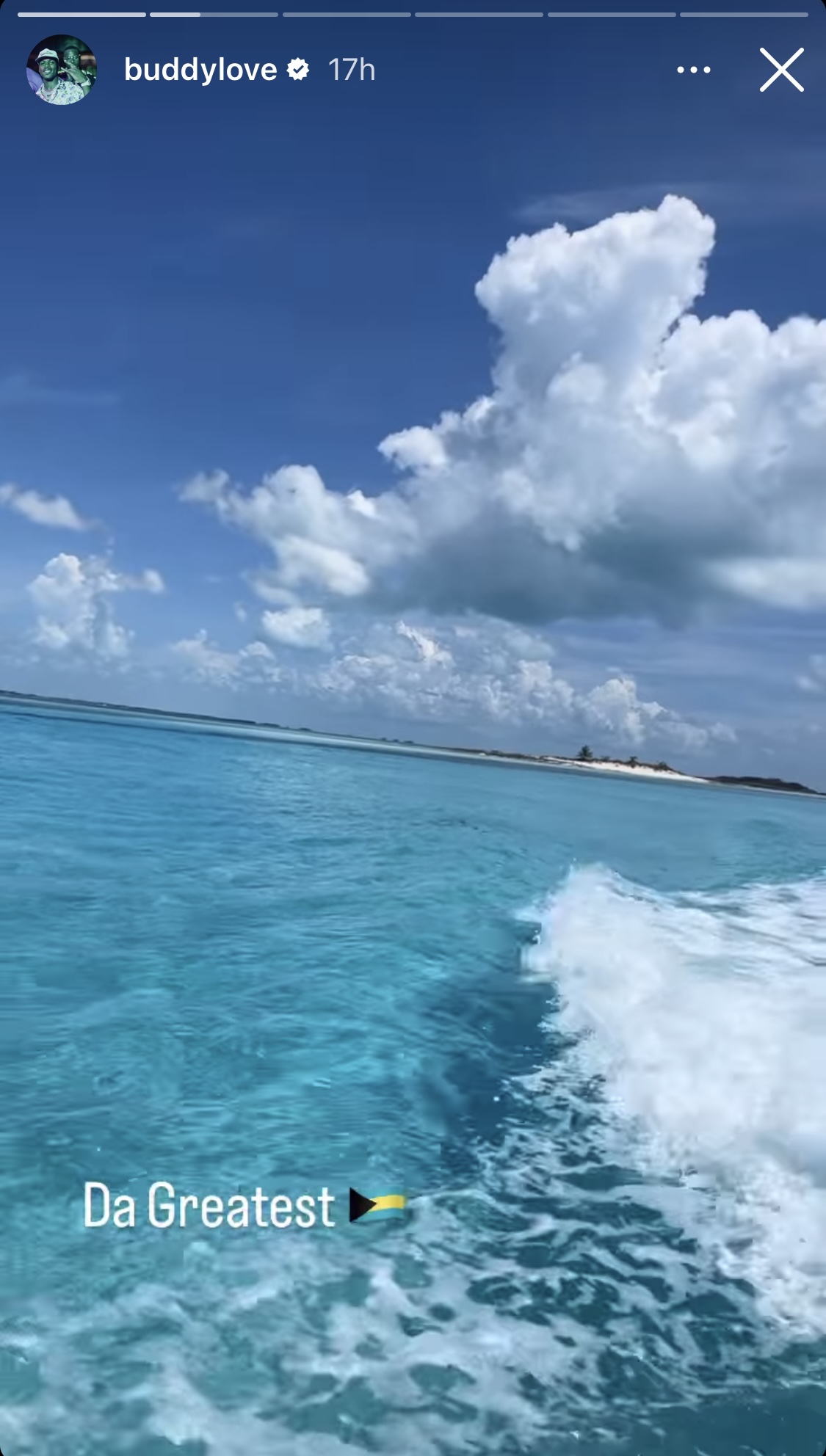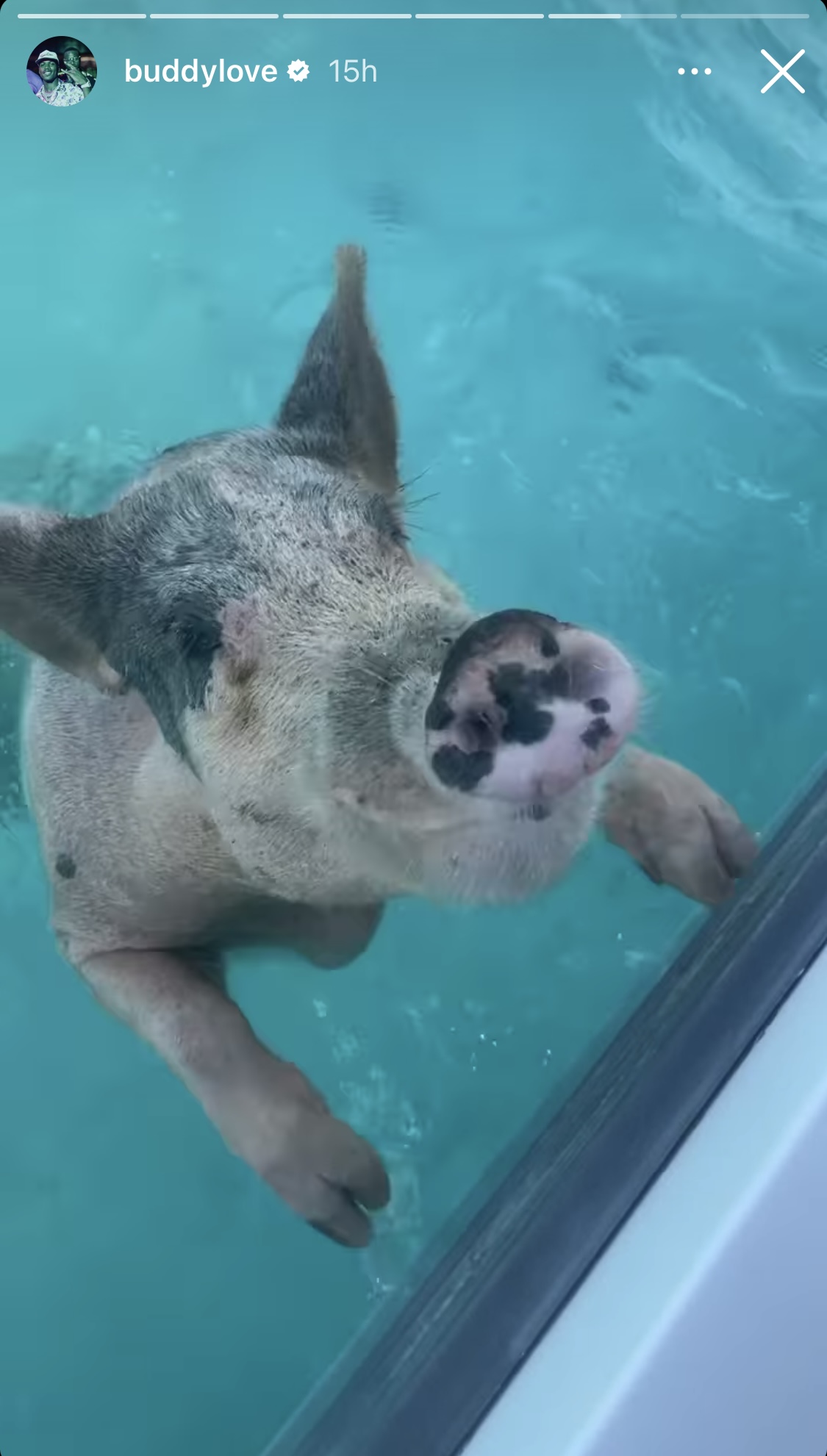 Rating: Sorry it's not the whole video but picture Hield chuckling and asking the pigs what's good and there you have it, a cinema of the mind.
Kyle Kuzma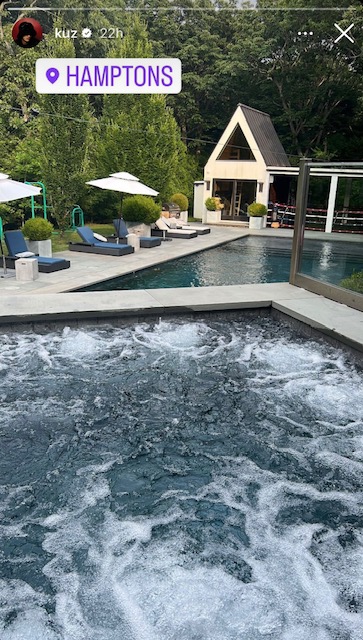 Kuz did indeed attend the well-covered white party, which was why he was in the Hamptons, but before he did he lounged by a very nice looking pool (two-tier, hot tub foreground and probably saltwater background) and showed off a new hair color in honor of staying in D.C.
Rating: I have no idea if that's what the hair color was for but I feel deeply in my bones that G-Wiz would approve of the tone.
Myles Turner
Turner, we know (because we told you last time), was in Milan for fashion week, but then he took some time off the runways to hit the coastal waterways of the Amalfi Coast, with a stop in Capri.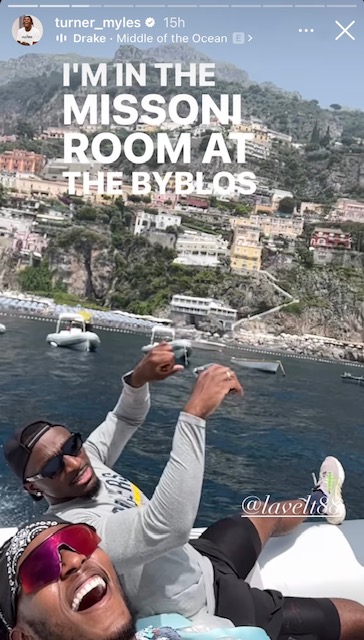 He also did a quick run into those majestic, ancient hills of the Lattari Mountain range and took a bite out of the perfect slice to recover.
Rating: I can't explain the specific math and logic of Summer Vacation, precisely, but the melon and languid coastal breeze cancels out the working out.
D'Angelo Russell
DLo and his family are in Croatia, likely enjoying the off the beaten track beaches they were getting to when they took this boat that went lightly skimming across the bay adjacent to the Adriatic Sea — if they hurry, they can probably easily catch up with Luka Doncic.
Rating: NBA SVW is anti-vacation location gatekeeping (like, in a general location sense, not in a paparazzi lurking around exact location sense) and DLo is with us!
Josh Okogie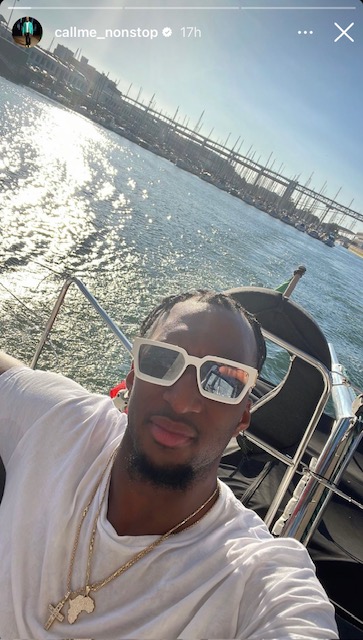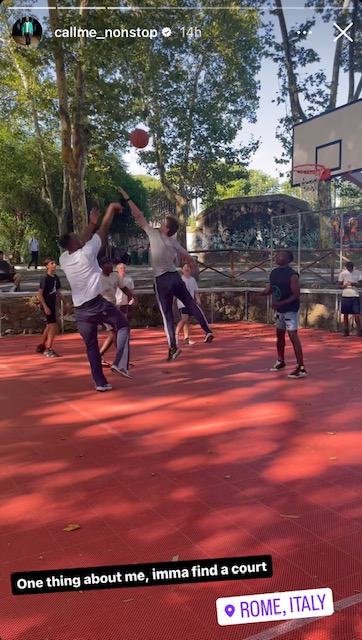 When we last caught up with Okogie he, too, was in Milan for fashion week. He's since been seen ripping around Europe like a Napoleon reborn (in terms of countries visited and miles traveled, not general demeanor or conquering tendencies). He's made stops in London, Capri, and now Rome, where he played a pickup game with some teenagers, one of whom has a vertical block that might already have Popovich on the phone. This guy is already in the running for NBA SVW MVP.
Rating: I did see the spaghetti coming!!
Delon Wright
https://www.instagram.com/delonwright/?hl=en
Perpetual ray of sunshine Delon Wright was in Paris for vacation, but also for Westbrook's Honor The Gift launch. In case you were panicking: Don't. He also did the picking up the Louvre Pyramid photo.
Rating: Fit pic by a fountain that looks like it's blasting out of you is a new, and great one.
Norman Powell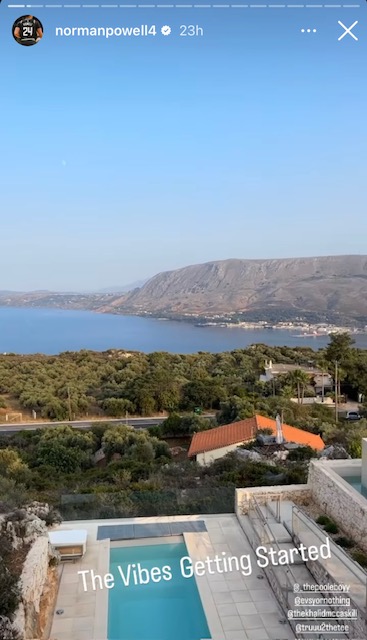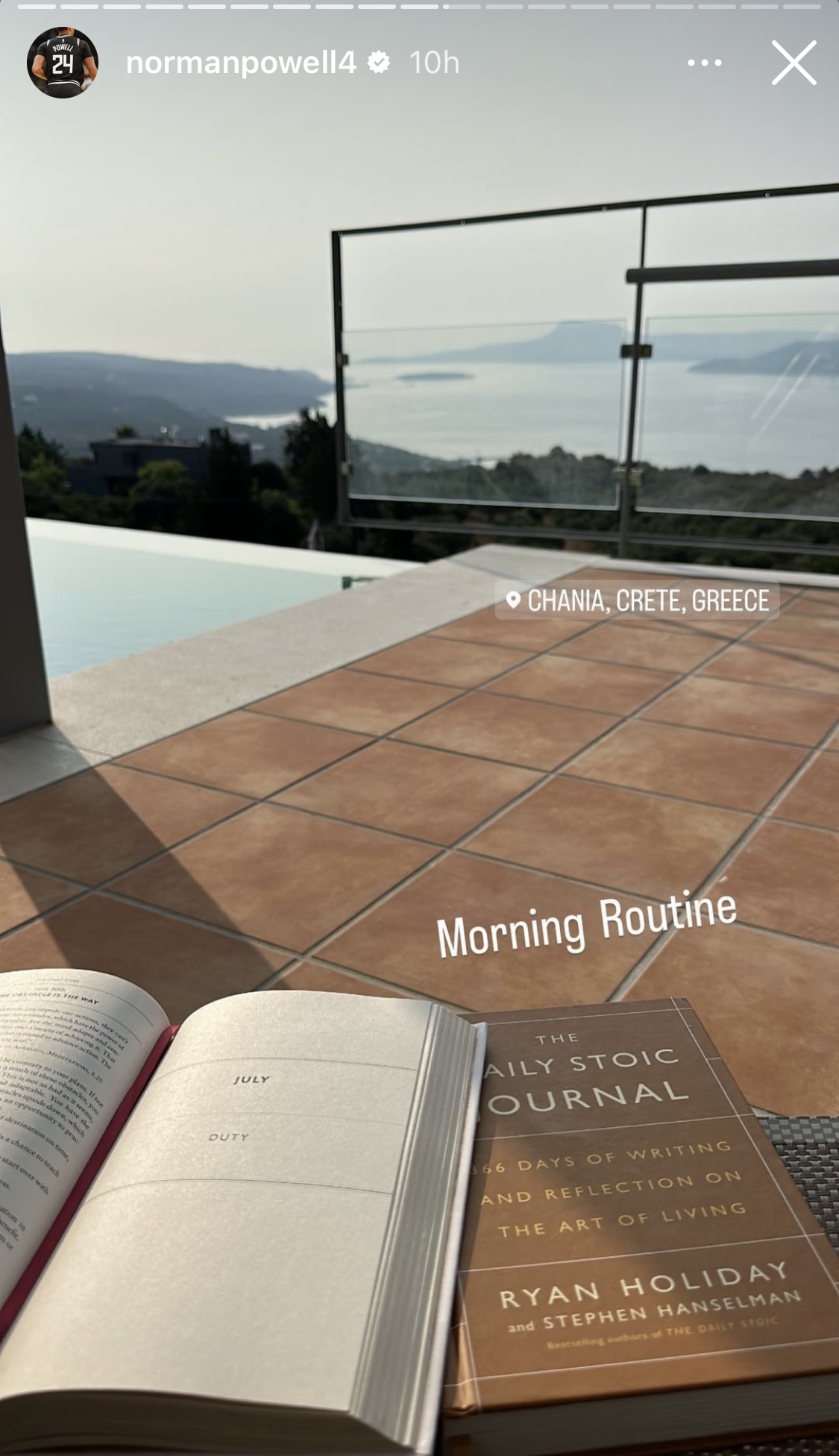 A friend saw me share these photos of Norman Powell on a nice, relaxing, rent a villa for all your best dudes vacationing in Greece trip, and said they thought it was me. Which: Thank you! But: Alas.
Rating: No offense to Norm, but I'm not sure Marcus Aurelius', who is heavily quoted in The Daily Stoic Journal, could even conceive of infinity, let alone an infinity pool. Exalted Emp(eror)? More like summer simp.
Lou Williams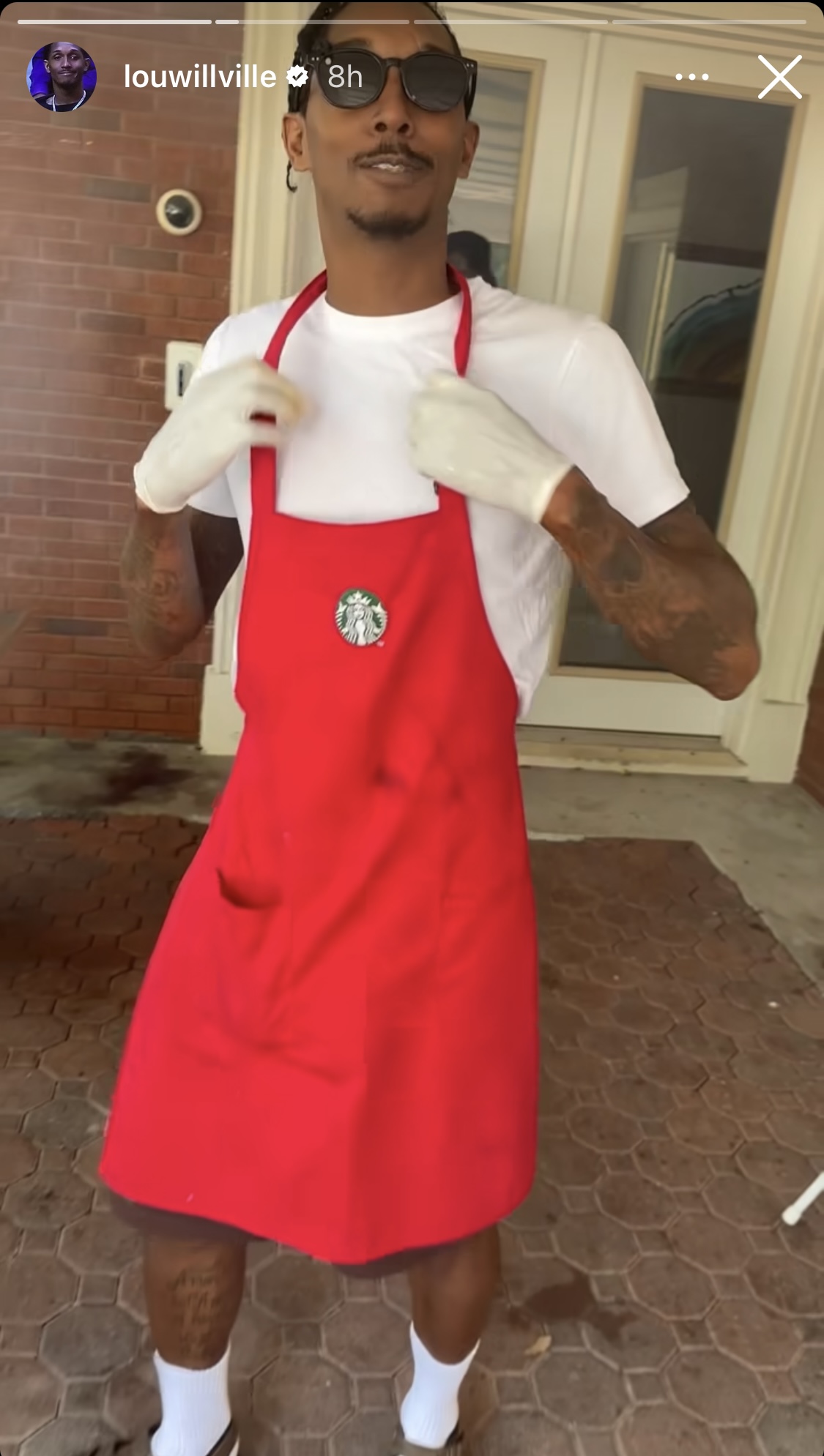 Big news! Newly retired Lou Williams is taking his new downtime seriously, and was handed the keys to the holiday grill this long weekend. Williams started off a little warily, listing all the things that would come under his supervision — hot dogs, burgers, chicken — but got right down to business in that snappy red Starbucks apron.
Rating: Not to mix up our ancient civs, but I'm pretty sure Lou Williams cooking you a hot dog is somebody's form of Valhalla.
Patrick Beverley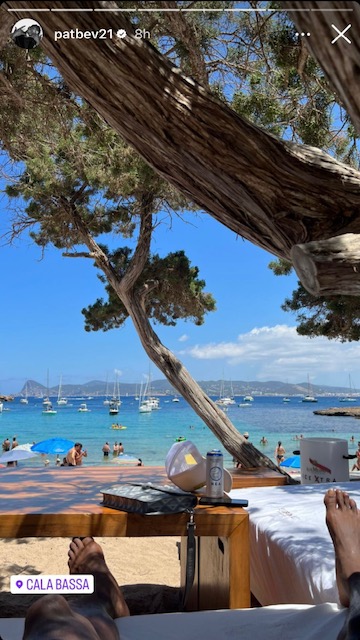 Pat Bev landed in Nice (nice), then zoomed over to Ibiza, Spain, like the easy breezy summer skipping stone that he is. Pretty sure the "IYKYK" caption is regarding these jet skis, but it might also be referring to the vast and unknowable depths of the ocean itself.
Rating: Pretty sure it's just the jet skis.
Terrence Ross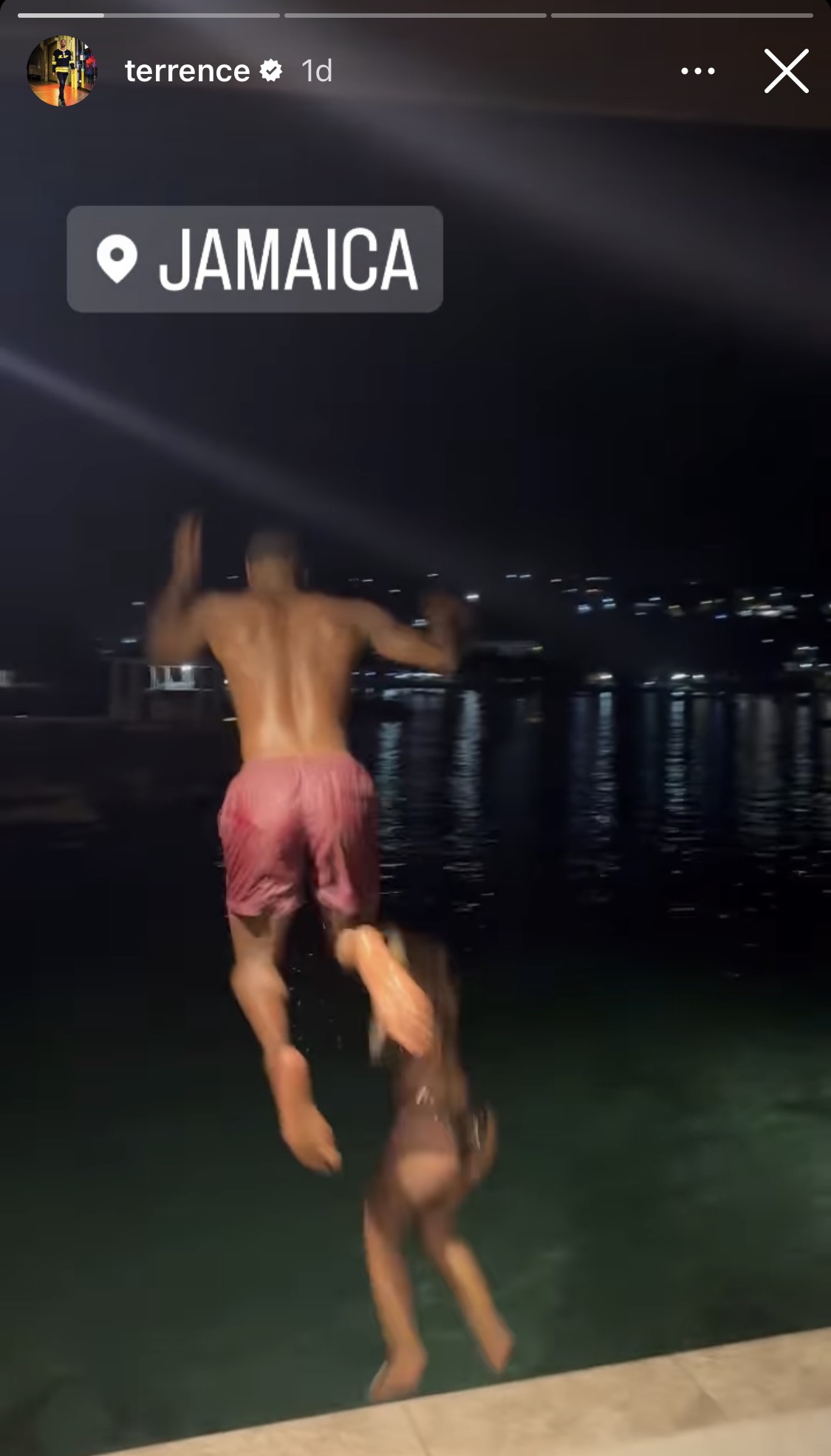 I'm sad we don't get another update of "Nature with TRoss," but happy we get this blurry still (best I could do, folks!) of Ross jumping off the ledge of his open-air Jamaica villa into the ocean.
Rating: In the Olympics, this style of dive is known as the very rare, very difficult, "Just totally winging it." Excellent form here.
Where in the world is Metta Sandiford-Artest?
Sorry we couldn't pin down Boris Diaw for you this week! Thankfully, Metta Sandiford-Artest has come through and made the sleuthing very easy for us.
Related Posts